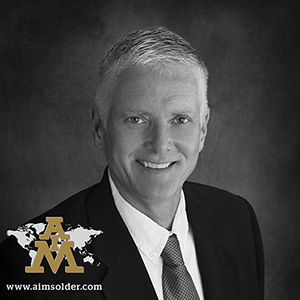 Cranston, Rhode Island ― AIM Solder, a leading global manufacturer of solder assembly materials for the electronics industry, is pleased to announce that Timothy O'Neill, AIM's Technical Marketing Manager, will present his white paper "A Practical Guide to Optimizing Solder Paste Performance for Ultra-Fine Feature Printing" at a Knowledge Sharing Session on February 17th, 2016 from 5:45pm – 6:45pm at Smartsol Technologies in Zapopan, Mexico.
O'Neill's white paper covers the optimization of solder paste performance from receiving to reflow. The discussion topics will include paste handling, stencil design, printer set up and common defects. The presentation incorporates theory with best practice to inform the process engineer of the how, what and why of solder paste use.  
Timothy O'Neill has over 20 years of experience in the solder assembly for electronics industry, including extensive knowledge with fine pitch solder paste dispensing technology. He has assisted and solved numerous clients' production challenges. O'Neill is also a technical writer and presenter for industry trade publications and events.
About AIM
Headquartered in Montreal, Canada, AIM Solder is a leading global manufacturer of assembly materials for the electronics industry with manufacturing, distribution and support facilities located throughout the world. AIM produces advanced solder products such as solder paste, liquid flux, cored wire, bar solder, epoxies, lead-free and halogen-free solder products, preforms, and specialty alloys such as indium and gold for a broad range of industries. A recipient of many prestigious SMT industry awards, AIM is strongly committed to innovative research and development of product and process improvement as well as providing customers with superior technical support, service and training. For more information about AIM, visit www.aimsolder.com.
Upcoming Events:
March 1, 2016 – SMTA Houston – Stafford, Texas
March 3, 2016 – SMTA Dallas – Plano, Texas
March 15-17, 2016 – IPC Apex – Las Vegas, Nevada
March 15-17, 2016 – Productronica China – Shanghai, China