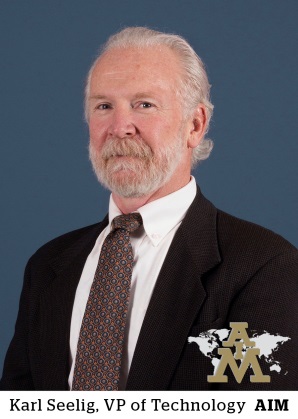 CRANSTON, RI USA - AIM Solder, a leading global manufacturer of solder assembly materials for the electronics industry, announces that Karl Seelig, Vice President of Technology, will lead the "Solder Reflow Fundamentals – Thermal Profiles and Defect Mitigation" tutorial with Fred Dimock, Manager of Process Technology at BTU International on Sunday, September 27th, 2015 from 1:30pm to 5:00pm at SMTA International in Rosemont, Illinois.  
The "Solder Reflow Fundamentals – Thermal Profiles and Defect Mitigation" tutorial focuses on how the shape of reflow profiles affects various defects and what can be done to eliminate them.  Seelig and Dimock will cover an array of topics throughout the tutorial including recipes and profiles, properties of solder paste, metals and flux, profile shapes, solder balls, opens, voids, and tombstoning.  Designed for SMT engineers and technicians, the course will provide practical troubleshooting tips.  
With over 30 years of industry experience, Karl Seelig has written and presented numerous technical papers on topics including lead-free electronics assembly, no-clean flux technology, assembly & process optimization, inspection, and metallurgical studies.  Seelig serves as the Chairman of the IPC Solder Products Value Council and has been involved in the development of material specifications under IPC.  He has also received numerous patents in soldering technology, including four lead-free solder alloys.
Register now for the tutorial by visiting http://www.smta.org/education/registration/pre_registration.cfm?event_id=1130.  
About AIM
Headquartered in Montreal, Canada, AIM Solder is a leading global manufacturer of assembly materials for the electronics industry with manufacturing, distribution and support facilities located throughout the world. AIM produces advanced solder products such as solder paste, liquid flux, cored wire, bar solder, epoxies, lead-free and halogen-free solder products, preforms, and specialty alloys such as indium and gold for a broad range of industries. A recipient of many prestigious SMT industry awards, AIM is strongly committed to innovative research and development of product and process improvement as well as providing customers with superior technical support, service and training.  
Upcoming Events:
September 27 – October 1, 2015 – SMTA International – Rosemont, Illinois 
October 14-15, 2015 – SMTA Guadalajara – Guadalajara, Mexico
October 14, 2015 – SMTA Long Island – Islandia, New York
October 20, 2015 – SMTA Connecticut – Waterbury, Connecticut
October 29, 2015 – SMTA Empire – Rochester, New York
November 5, 2015 – SMTA Space Coast – Melbourne, Florida
November 10-13, 2015 – Productronica – Munich, Germany