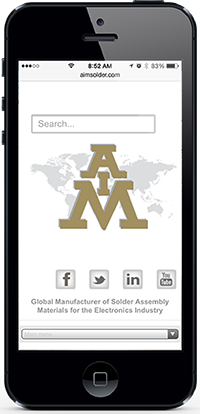 Cranston, Rhode Island – AIM Solder, a global leader in the manufacture of solder assembly materials for the electronics industry, announced today the completion of a full mobile optimization of its official website. The mobile optimization for www.aimsolder.com now provides AIM's customers with an efficient and easy mobile website experience. 
AIM's Marketing Department has worked aggressively to increase its digital marketing capabilities, including AIM's overall web and social media presence, in order to uphold their unsurpassed approach to quality customer responsiveness.  Along with quick links to AIM's social media pages, visitors to the mobile-optimized website will have on-the-go access to streamlined navigation featuring extensive product information and technical guides, as well as Safety Data Sheets and Technical Data Sheets from their mobile device or tablet. 
"We recognized that an increasing percentage of users were visiting our website from mobile devices.  Understanding that quick and efficient answers are important to this growing group of users, we determined that an improvement to our already mobile-friendly website was in order," said Kelly Cardone, Marketing Manager at AIM Solder.  "As part of AIM's continuing effort to deliver the highest quality experience to both existing and potential customers, we are pleased to now offer a fully mobile-optimized website." 
About AIM
Headquartered in Montreal, Canada, AIM Solder is a leading global manufacturer of assembly materials for the electronics industry with manufacturing, distribution and support facilities located throughout the world. AIM produces advanced solder products such as solder paste, liquid flux, cored wire, bar solder, epoxies, lead-free and halogen-free solder products, preforms, and specialty alloys such as indium and gold for a broad range of industries. A recipient of many prestigious SMT industry awards, AIM is strongly committed to innovative research and development of product and process improvement as well as providing customers with superior technical support, service and training. For more information about AIM, visit www.aimsolder.com.
Upcoming Events:
November 10-13, 2015 – Productronica – Munich, Germany
November 12, 2015 – SMTA Space Coast – Melbourne, FL