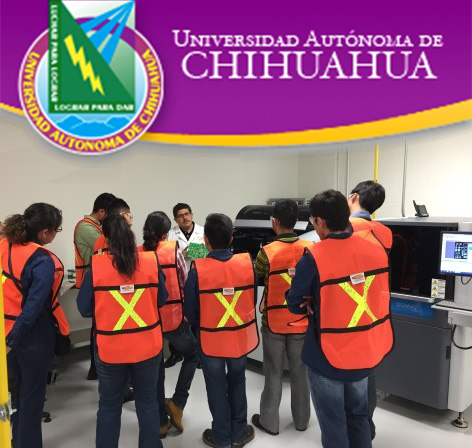 Cranston, Rhode Island - AIM, a leading global manufacturer of solder assembly materials for the electronics industry, is pleased to announce that its Juarez, Mexico facility welcomed engineering students from the Chihuahua Institute of Technology (ITCH) to take a tour of its facility and learn about the key steps in the manufacturing process of solder assembly materials.
On April 22, 2016, a group of ITCH professors and students majoring in Materials Engineering toured the AIM - Soldadura de Mexico facility. Students were introduced to practical applications of theories they learn in the classroom. The ITCH visit is one initiative that supports AIM's ongoing efforts of social responsibility. AIM reaffirms its commitment to the Mexican community by contributing to development of future engineers of Chihuahua and Mexico.
About ITCH
Located in Chihuahua, Mexico, The Chihuahua Institute of Technology acted as a catalyst institution in the development of Industrial Engineering programs in Mexico. ITCH is committed to innovating and driving the professional development of future leaders that will contribute to the success of the private and public sector.
About AIM
Headquartered in Montreal, Canada, AIM Solder is a leading global manufacturer of assembly materials for the electronics industry with manufacturing, distribution and support facilities located throughout the world. AIM produces advanced solder products such as solder paste, liquid flux, cored wire, bar solder, epoxies, lead-free and halogen-free solder products, preforms, and specialty alloys such as indium and gold for a broad range of industries. A recipient of many prestigious SMT industry awards, AIM is strongly committed to innovative research and development of product and process improvement as well as providing customers with superior technical support, service and training. For more information about AIM, visit www.aimsolder.com.
Upcoming Events:
June 30, 2016 – SMTA Upper Midwest – Minnetonka, MN
July 14, 2016 – SMTA Chihuahua – Chihuahua, CH
August 4, 2016 – SMTA Ohio – Cleveland, OH
August 30, 2016 – SMTA Capital – Laurel, MD