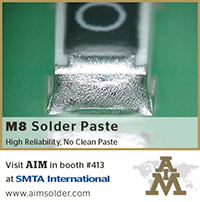 Cranston, Rhode Island - AIM Solder, a leading global manufacturer of solder assembly materials for the electronics industry, will highlight their new M8 No Clean Solder Paste along with their full line of solder assembly materials at the SMTA International 2015 trade show, scheduled to take place on September 27th – October 1st, 2015 at the Donald Stephens Convention Center in Rosemont, Illinois.  AIM will be located in booth 413.
An evolution of the highly successful NC258 platform, M8 is designed for the most demanding high-density electronic assemblies. Developed in combination with T4 and finer mesh tin/lead and lead-free alloy powders, M8 provides stable transfer efficiencies required for today's challenging applications. A novel activator system provides powerful, durable wetting action accommodating a wide range of profiling processes and techniques. M8 eliminates HiP defects on BGA and reduces voiding on QFN/BTC components while producing bright shiny solder joints, leaving minimal, high purity residues engineered to be safely left in place.
Additionally, AIM's Technical Marketing Manager, Timothy O'Neill and Research and Development Manager, Mehran Maalekian Ph.D., will be presenting at SMTA International's technical conference. O'Neill's presentation, Evolution of the Performance and Reliability Requirements of Soldering Fluxes, explores the constant evolution of flux chemistries due to the miniaturization and proliferation of electronics.  In Maalekian's presentation, The Effect of Bi Content on Properties of Low Silver SAC Solders, thermal behavior (melting and solidification), wetting and spreading performance, as well as tensile and hardness properties of various alloys are compared and a promising lead-free solder alloy is recommended.
To discover all of AIM's products and services, visit the company in booth number 413 at SMTA International or at www.aimsolder.com.
About AIM
Headquartered in Montreal, Canada, AIM Solder is a leading global manufacturer of assembly materials for the electronics industry with manufacturing, distribution and support facilities located throughout the world. AIM produces advanced solder products such as solder paste, liquid flux, cored wire, bar solder, epoxies, lead-free and halogen-free solder products, preforms, and specialty alloys such as indium and gold for a broad range of industries. A recipient of many prestigious SMT industry awards, AIM is strongly committed to innovative research and development of product and process improvement as well as providing customers with superior technical support, service and training. 
Upcoming Events:
Sept. 1 – STMA Capital – Laurel, Maryland
Sept. 27 – Oct. 1, 2015 – SMTA International – Rosemont, Illinois
Nov. 10-13, 2015 – Productronica – Munich, Germany