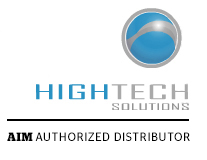 Cranston, Rhode Island – March 18, 2015 ― AIM Solder, a leading global manufacturer of solder assembly materials, is pleased to announce the addition of HighTech Solutions SRL as a new stocking distributor of the complete line of AIM solder assembly materials. HighTech Solutions will stock and supply solder bar, flux, wire, paste, preforms, etc. as well as provide technical support to AIM customers within Argentina. 
Located in Tierra del Fuego, Argentina, HighTech Solutions is an innovative company dedicated to providing high quality products and solutions to each individual client's production process. This new partnership is a strong addition to AIM's growing global presence, further strengthening the exceptional network of support provided to AIM customers worldwide. 
For more information about HighTech Solutions please contact +54 (2964) 420272 or online www.consultorahts.com. For sales and support please contact Gastón Hervidas at +54 (02964) 15521096 or by email info@consultorahts.com.
For more information on AIM Solder's complete line of advanced solder products and global technical services, please visit www.aimsolder.com.  
About HighTech Solutions SRL 
We are a young, innovative company with a strong commitment to our clients' business, aimed at jointly develop the success of their operations. Exceeding expectations of service and quality of our products, we offer a unique combination on the market. Our department of commercial expertise is dedicated exclusively to find efficient and effective customer requirements solution, being a perfect partner for your business success. The quality of our products and the local stock permanently secure the profitable growth of the operation thereof. Ensuring continuity replacement and expertise with innovative products and may develop a close bond with the quality of their production process. 
About AIM
Headquartered in Montreal, Canada, AIM Solder is a leading global manufacturer of assembly materials for the electronics industry with manufacturing, distribution and support facilities located throughout the world. AIM produces advanced solder products such as solder paste, liquid flux, cored wire, bar solder, epoxies, lead-free and halogen-free solder products, preforms, and specialty alloys such as indium and gold for a broad range of industries. A recipient of many prestigious SMT industry awards, AIM is strongly committed to innovative research and development of product and process improvement as well as providing customers with superior technical support, service and training. 
Upcoming Events:
March 23-27, 2015 – FIEE – São Paulo, Brazil
March 24, 2015 – SMTA Dallas – Plano, Texas USA
March 26, 2015 – SMTA Houston – Stafford, Texas USA
April 21-23, 2015 – Nepcon China Shanghai 2015 – Shanghai China