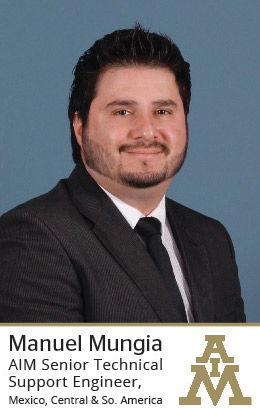 Cranston, Rhode Island, USA - AIM Solder, a leading global manufacturer of solder assembly materials for the electronics industry, announces the appointment of Manuel Munguia to the position of Senior Technical Support Engineer, Mexico, Central and South America. Operating out of AIM Soldadura de Mexico, Mr. Munguia will be responsible for providing technical support to customers in Mexico along with increased responsibility supporting key corporate accounts in Brazil, Argentina, and other South American accounts. 
Mr. Munguia has over fifteen years of experience in the solder assembly materials industry, four of which came from his former position with AIM as a Technical Applications Engineer. His knowledge and expertise align greatly with AIM's focus on providing customers with high quality technical support and information. Mr. Munguia is a Certified IPC Specialist which will help him provide corporate accounts in Central and South America with technical support and recommendations according to the IPC quality standard. Mr. Munguia's proficiency in his previous role is sure to continue in his new role as a Senior Technical Support Engineer for Mexico, Central and South America. 
"We are pleased Manuel will take on his new role as Senior Technical Support Engineer for Mexico, Central and South America," said Carlos Tafoya, AIM's Technical Support Director. "I am confident that Manuel's expertise and skills will be a great fit in this role, as he will provide quality technical support to the Central and South American solder assembly markets."
Based in Mexico Manuel may be reached by phone at +5213316014215 or by email at mmunguia@aimsolder.com.
About AIM
Headquartered in Montreal, Canada, AIM Solder is a leading global manufacturer of assembly materials for the electronics industry with manufacturing, distribution and support facilities located throughout the world. AIM produces advanced solder products such as solder paste, liquid flux, cored wire, bar solder, epoxies, lead-free and halogen-free solder products, preforms, and specialty alloys such as indium and gold for a broad range of industries. A recipient of many prestigious SMT industry awards, AIM is strongly committed to innovative research and development of product and process improvement as well as providing customers with superior technical support, service and training. For more information about AIM, visit www.aimsolder.com.
Upcoming Events:
May 19, 2016 – TEC Warsaw – Warsaw, Poland
May 19, 2016 – SMTA Michigan – Livonia, MI
June 9, 2016 – SMTA Philadelphia – King of Prussia, PA