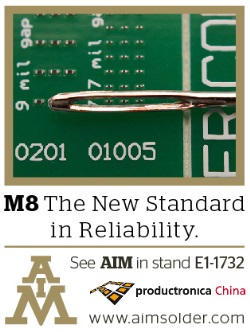 Cranston, Rhode Island - AIM Solder, a leading global manufacturer of solder assembly materials for the electronics industry, has announced that they will feature their groundbreaking M8 solder paste at Productronica China 2016 from March 15th – 17th at the Shanghai New International Expo Centre in Shanghai, China. AIM will be located in hall E1, booth 1732. 
M8 No Clean Solder Paste has been formulated to address the most demanding requirements confronting today's SMT assembly market. M8 is proven to improve production yields and product quality, whether printing 0.50 area ratios or eliminating voiding on QFN and LED packages.  M8's post-reflow residue passes all IPC, BONO and tough changing environment test specifications, making it the ideal choice for automotive and high performance/high reliability applications. M8's robust characteristics and stable performance improves every facet of the PCB assembly process.
2016 marks AIM's first year attending Productronica China. AIM plans to use this opportunity to highlight its high quality products and unsurpassed technical support. AIM continues to invest in the China market to support the incredible growth they are experiencing there. AIM has an ISO 9001 and ISO 14001 certified full-line manufacturing facility in Shenzhen, China.  The facility houses applications and analytical laboratories, customer service, sales support and technical support staff.  In addition to the Shenzhen facility, AIM also has support offices located throughout Asia.
For more information about AIM's M8 Solder paste and its complete line of solder products and services, including lead-free and halogen-free products and SN100C, visit the company at booth E1-1732 at Productronica China 2016 or visit www.aimsolder.com.
About AIM
Headquartered in Montreal, Canada, AIM Solder is a leading global manufacturer of assembly materials for the electronics industry with manufacturing, distribution and support facilities located throughout the world. AIM produces advanced solder products such as solder paste, liquid flux, cored wire, bar solder, epoxies, lead-free and halogen-free solder products, preforms, and specialty alloys such as indium and gold for a broad range of industries. A recipient of many prestigious SMT industry awards, AIM is strongly committed to innovative research and development of product and process improvement as well as providing customers with superior technical support, service and training. For more information about AIM, visit www.aimsolder.com.
Upcoming Events:
March 1, 2016 – SMTA Houston – Stafford, Texas
March 3, 2016 – SMTA Dallas – Plano, Texas
March 15-17, 2016 – IPC Apex Booth #3100– Las Vegas, Nevada
March 15-17, 2016 – Productronica China Hall E1 Booth #1732 – Shanghai, China